You may have thought
that
playing into a "cup" or "mug" for effect was more of a "demonstrative" technique – a one-off kind of thing. Very cool for sure but probably not much use beyond that…
I See It Differently.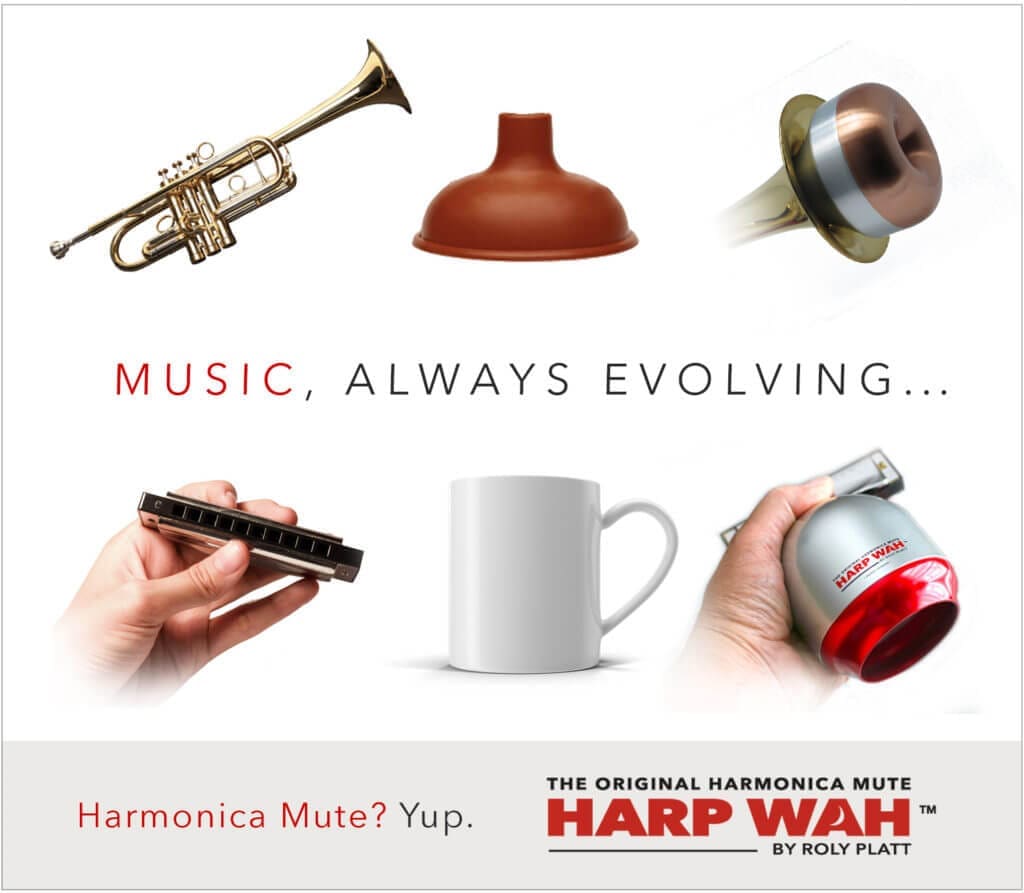 I've always thought the "cup mute" effect should be used in the same way a trumpet player might use a trumpet mute – not on every song but in the right place, it would be a great effect to have at my disposal.
Over the years I tried the old-school "playing into a cup" technique on a few select recording sessions and live situations, but I always found it awkward – especially when trying to aim the sound into a mic. MORE IMPORTANTLY, I found it quite limiting when trying to just play "freely", the way I normally do, (without the restrictions of holding a large cup). My hat's off to the players that are masters of "the Cup" – Joe Filisko, Kim Wilson, Jason Ricci, Carlos Del Junco, to name a few, but I could never never get fully comfortable with it.
"This was something I originally created just for my own use…"
I had fooled around with home-made alternative ideas to get that effect, then finally decided to design a proper, professional solution for myself.
I wanted something that:
• Had great tone
• Was convenient to use
• Allowed me to play freely
• Aimed the sound directly forward, into my mic.
• Looked Pro
The Harp Wah was the result.
A Better Solution.
After enjoying the benefits of this device myself, I've decided to offer it to all diatonic players who are looking to add something new to their harp sound kit. I hope you find it as useful as I do.
Benefits:
Fully forward-facing design aims the sound directly out from you and into your mic
The Harp Wah™ becomes an extension of your regular hand cupping position – making it feel natural, with minimal effect on your playing style.
Shape focuses the sound into narrow, controllable field.
Anodized polished aluminum – safe, rock-hard and extremely durable finish – inside and out.
Light weight and durable, for a lifetime of road-worthy abuse.
Universal shape and gender-neutral size accommodates a wide range of harp players.
For left or right-handed players.
Protective drawstring bag
Currency converter
We Accept
Sounds Like a Trumpet Mute…

"Very much sounds like a trumpet mute… produces very crisp wah-wahs when you want."

Ross Macdonald

Do you need to practice harp at a lower volume?

I live in an apartment and use the Harp Wah to play quietly in the evening. It works!

"Wicked!"

"The Harp Wah is a cool, expressive tool for acoustic harp players, with a learning curve near zero."

 

A great investment!

It (the Harp Wah) arrived this morning and it is brilliant, everything promised and more. It adds a lovely tone to the playing, much better than cupped hands. I would certainly recommend everyone to get one, a great investment.

Terry Thorne

As a Female Harp Player…

with small hands I found the Harp Wah very similar to the grip for holding a microphone and I did not need to use the grip tape provided.

Love it love it….love it. Cant say enough about it.

"O

n stage I use the Harp Wah.

It's just a great muted effect for harmonica! A great invention and a beautiful device!"

"I was skeptical … but this is a different beast with its own rich tone.

Definitely a valuable addition to the harp player's toolkit.
Nice one Roly!"

"Best harmonica innovation in a long time.

It takes harp "muting" possibilities to a new level. Thanks, Roly!"

What a Wonderful Adaptation!

I always wanted to find a way to get the "wah" sound with a mug but got discouraged. This really makes it easy. Thank you!

"It's just perfect. Fantastic sound and very expressive!"

It's the best wah sound effect I've ever tried – beautifully designed and easy to hold in your hand.